Flat Fee MLS Listing Options
Seasonal Special MLS Listing
Broker Direct MLS
6 Month Flat Fee MLS

Up to 6 Pictures on the MLS

Realtor.com, Zillow + Many More

Receive All Buyer Leads
Gold MLS Listing
America's Choice
ADDITIONAL SYNDICATION FOR MORE EXPOSURE!

6 Month Flat Fee MLS

Up to 25 Pictures on the MLS

Realtor.com, Zillow + Many More

Receive All Buyer Leads
Silver MLS Listing
25 MLS Photos
6 Month Flat Fee MLS

Up to 25 Pictures on the MLS

Realtor.com, Zillow + Many More

Receive All Buyer Leads
Listing Syndication
Local MLS, Realtor.com, Zillow, Trulia, Redfin and many more
Unlimited Property Desciptions
Don't hold back! No one knows the ins and outs of your property better than you do.
All MLS Forms and Disclosures
From MLS Listing Agreements to TX state required property disclosures, all included.
Fast MLS Listing
Your listing will be placed with a locally operated top TX Flat Fee Broker. Expert in this industry.
You Choose Buyer Agent Fee
Typically between 2-3% but it's completely up to you.
Sell It Yourself and Pay Nothing Else
If a Buyer finds you and contacts you directly from one of the hundreds of listed sites, you pay no additional commissions to anyone.
ZERO Listing Commission at Closing
You only pay the Flat Fee up-front for your MLS Listing. You pay a Buyer's Agent if they bring your a Buyer.
Customer Service
We are here to help with any MLS Listing questions. Also additional broker support is available throughout.
Save Your Family Thousands of Dollars
What To Expect With Your Flat Fee MLS Listing
Your house is placed on the market and made visible to prospective buyers for a flat fee as low as $99. You will comfortably get through every step of the selling process by listing with an experienced licensed broker. When your home sells, you keep more of your hard-earned equity than if you worked with a traditional brokerage firm.
If a buyer without an agent's representation finds your property via the 100's+ websites, you retain the right to sell your property yourself without paying any additional commissions or fees to anyone. When buyer's agent brings you a buyer, you decide their commission, typically 2-3%. Our Flat Fee MLS options have high success rates and provide big savings to you.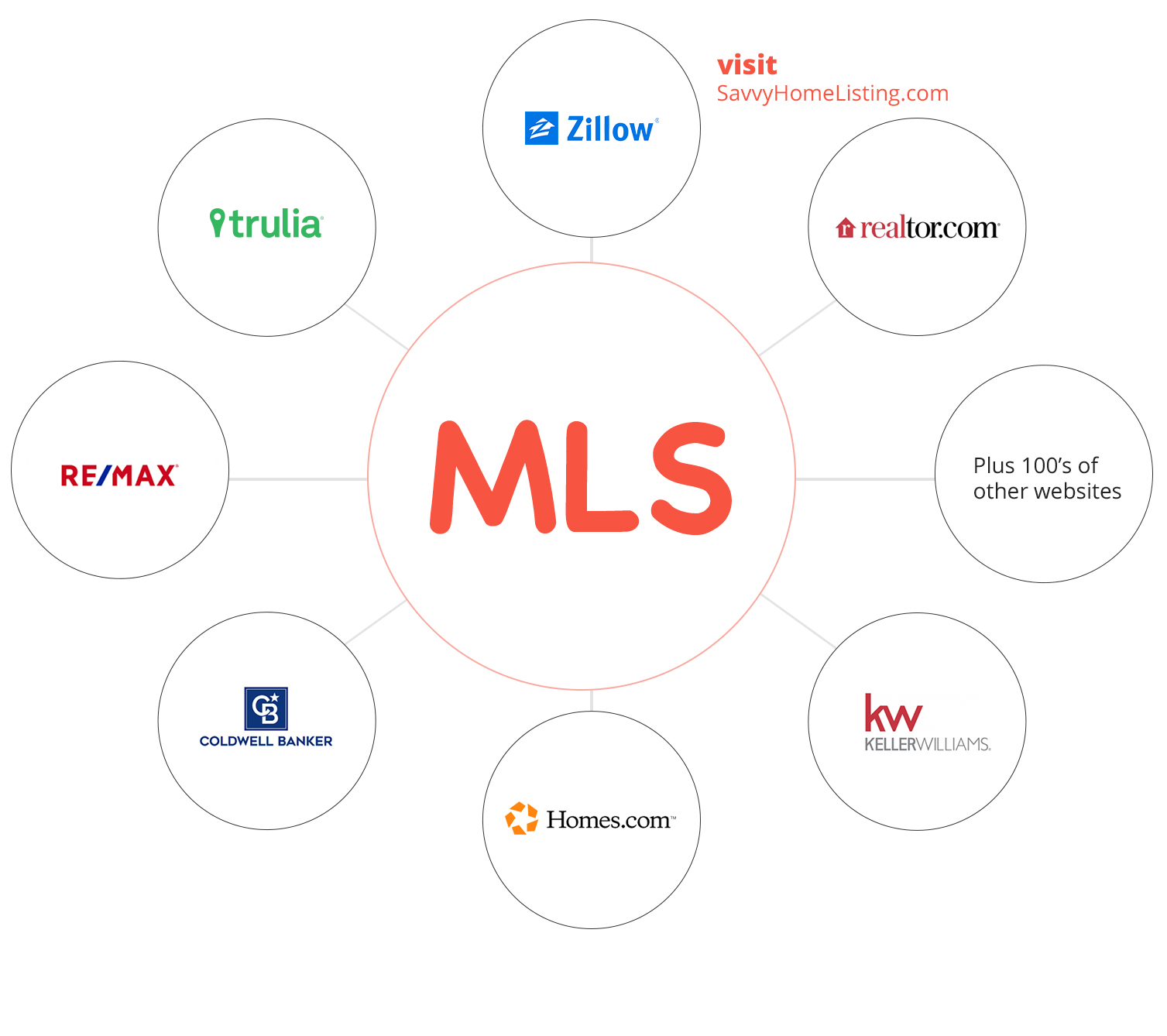 It's your equity.
See what your savings can do for you*
* Assumes 2.5% buyers commission, saving could be substantially greater with no buyers commission.
Flat Fee MLS Savings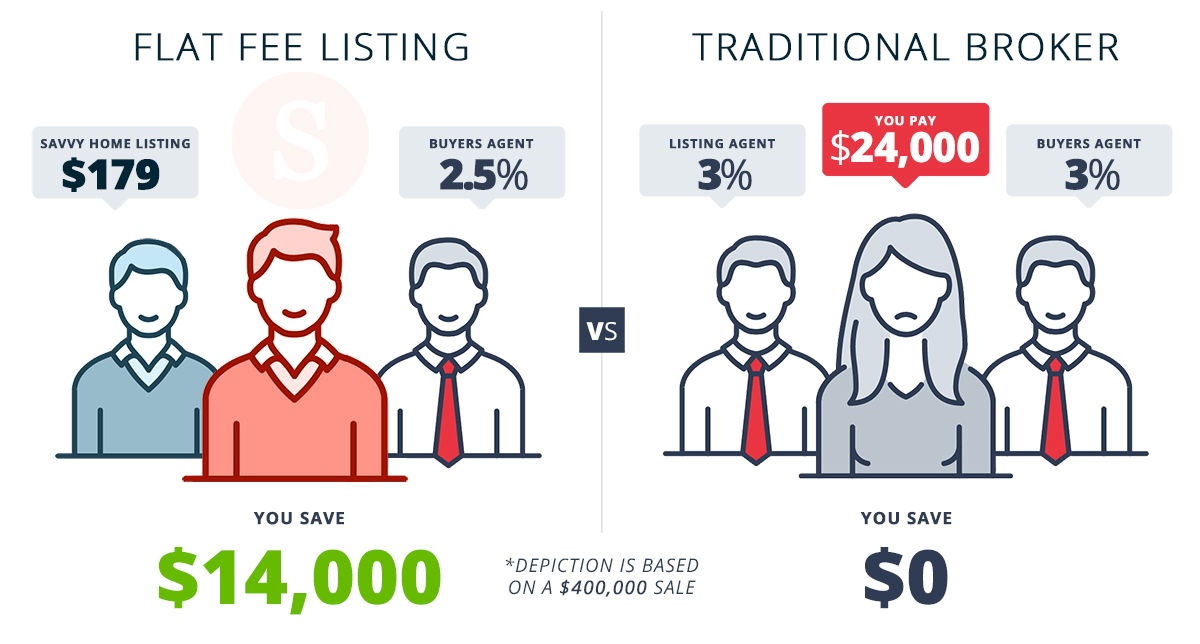 Feel like giving away thousands in equity? DON'T!
Why pay a traditional brokerage 6-7% commission to sell your home when you don't have to? Let's leave high commissions in the past! Flat Fee MLS Listing is the best alternative to full service.
Now for sale by owners can get the exposure needed to get good offers and sell without the high fees.
Shortly after purchasing your flat fee mls listing you will be emailed all the requires documents & forms to get your property on the local MLS and be all set to reach thousands and thousands of buyers.
LIST SMARTER with Flat Fee MLS Listing and get your property on the local MLS as well as HIGH TRAFFIC websites such as: Zillow, Trulia, Redfin including all the top local sites, all working together marketing your FSBO property on the web.
For a Flat Fee your property will be listed on your local MLS + Realtor.com as well as many other sites putting your for sale by owner property in front of thousands of potential buyers.
We have been familiar with Flat Fee MLS Listing real estate for years and now we are bringing flat fee mls listing everywhere in the USA.
The exact same online exposure that you would get by paying a traditional broker 6-7% commission. Retain full control over the sale of your property (cancel anytime for any reason), and save yourself tons of money. It's the best of both worlds, Sell It Yourself, with the exposure you need to get the offers you expect. Flat fee mls listing for fsbo (for sale by owner) home sellers is the way.
Click here to get started today.
How Flat Fee MLS Works
You Need Exposure. We Make It Simple.
#1 Select Your Package
Choose from 3 Flat Fee MLS listing options.
#2 Complete the MLS Forms
Listed on the MLS, Realtor.com and tons of other sites.
#3 You Save Thousands
Buyers are forwarded to you, you negotiate, you sell it, more money in your pocket.
Hybrid MLS Listing
The future of listing! For sale by owners save on listing commission but you get the same exposure as the pros! A  flat fee mls listing is the only way to get your property on the MLS, Realtor.com and many more sites. As a FSBO you are not allowed to self-list your property on the MLS, only a licensed real estate broker can you list there. So that's exactly how a flat fee mls listing works. It's a hybrid of for sale by owner matched with the online exposure of a traditional mls listing.
Save Your Family Thousands of Dollars